Khao San Road, the pulsing artery of Bangkok's backpacker district, buzzes with an infectious energy. A melting pot of cultures, tastes, and sounds, this iconic street offers a kaleidoscope of experiences. From tantalising street food to eclectic market finds, here's your ultimate guide to 10 must-do activities on Khao San Road.
10 Things to do in Khao San Road
1. Explore the street market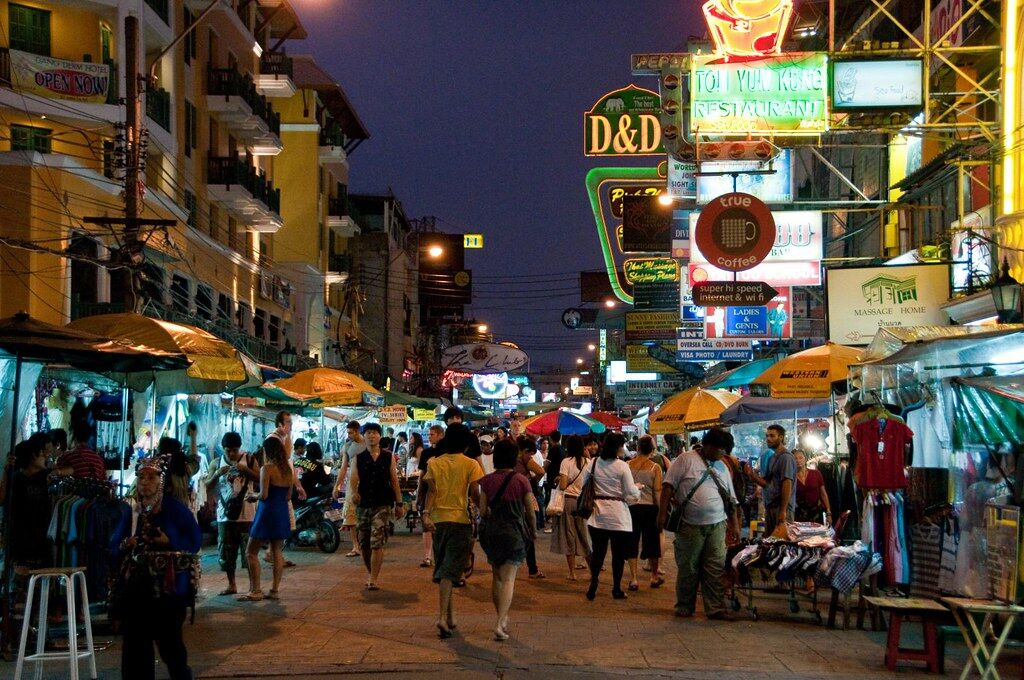 Khao San Road's street market is an electrifying mosaic of commerce and culture, where a myriad of stalls beckon with their vibrant wares. Wander through this bustling thoroughfare, and you'll be enveloped in a symphony of haggling voices and the tantalizing aromas of Thai cuisine. Handmade crafts sit alongside chic fashion finds, offering a glimpse into the local artisanal talent. Here, the quest for the perfect keepsake becomes a journey of sensory discovery.
2. Enjoy a Thai massage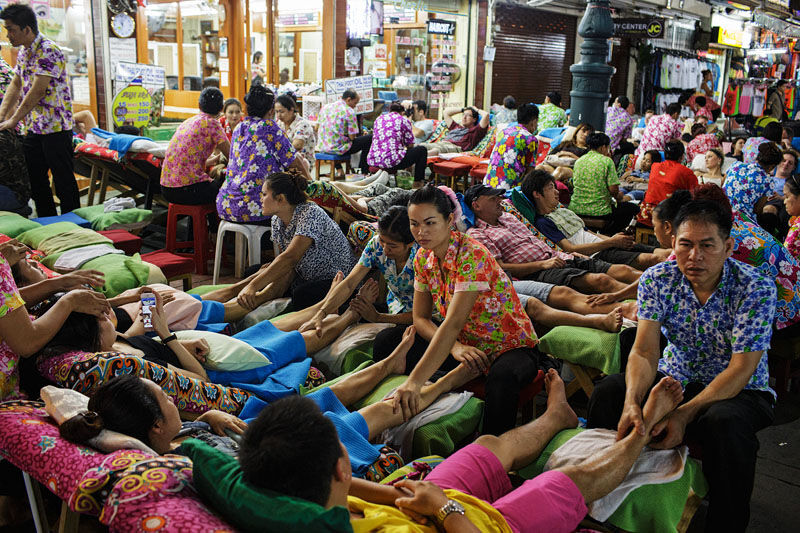 After a day soaking up the lively atmosphere of Khao San Road, a Thai massage at Shewa Spa is the perfect way to unwind. This haven of tranquillity offers a restorative retreat with massages that blend age-old techniques with modern comfort. Affordable and deeply soothing, Shewa Spa's experienced therapists work wonders on tired muscles, providing a rejuvenating experience that readies you for your next adventure.
The spa's serene environment allows you to relax fully as you're guided through a journey of peaceful relaxation. A visit here isn't merely a break from the buzz of Bangkok—it's a cherished part of the travel experience, promising to leave you refreshed and revitalised.
3. Enjoy the nightlife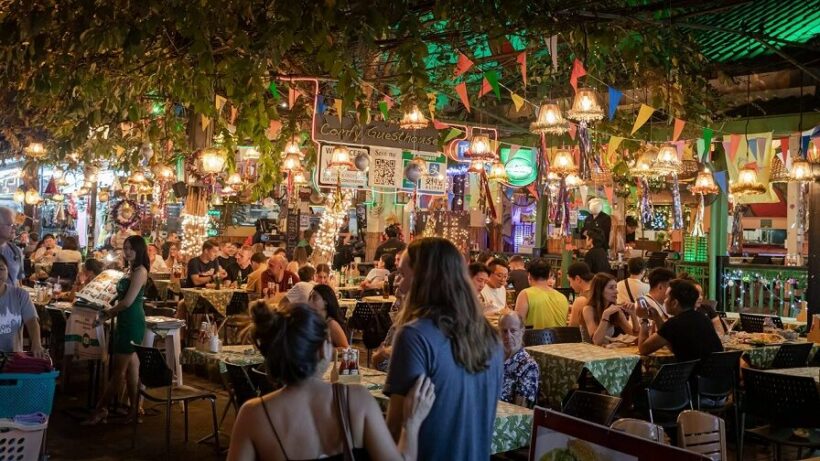 Khao San Road, Bangkok's famed backpacker haven, truly comes alive at night. The Brick Bar is a top pick for those who love rocking out to live bands, with its energetic rock and ska tunes. Seeking a more mellow evening?
Dance enthusiasts will find their bliss at The Club Khaosanwhere vibrant electronic beats meet dazzling light shows. Each spot along this dynamic road offers a unique experience, ensuring every night owl finds their perfect perch for an unforgettable evening.
4. Eat the street food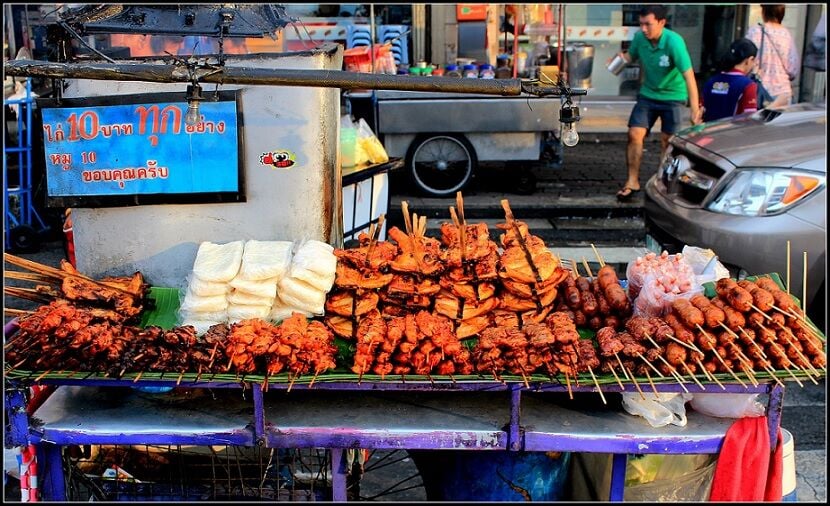 Khao San Road is not just a feast for the eyes but also a paradise for street food connoisseurs. Here, you can indulge in the iconic Pad Thai, a stir-fried noodle dish bursting with flavour, or savour the sweet delights of mango sticky rice. But the culinary adventure doesn't stop there. Delve into the spicy realm of Som Tam, a zesty papaya salad, or bite into the succulent Moo Ping, grilled pork skewers that are a local favourite.
Don't miss the chance to try Tom Yum Goong, a tangy shrimp soup that tantalises the palate. Each dish is a reflection of Thailand's rich gastronomic heritage, readily available in the bustling lanes of Khao San Road. With every bite, you're not just eating; you're experiencing the vibrant heart of Thai culture.
5. Visit the temples
Just a stone's throw from the energetic Khao San Road lies the tranquil world of Bangkok's revered temples. Wat Pho, known for its gigantic reclining Buddha, offers a peaceful escape where you can marvel at intricate murals and meandering garden paths. A short hop across the river brings you to Wat Arun, the Temple of Dawn, with its striking spires reaching skyward.
These architectural wonders stand as testaments to Thailand's rich cultural tapestry. Soaking in the serene atmosphere, visitors can find a moment of reflection amidst their bustling travel itinerary. Whether by foot or tuk-tuk, these temples are a must-visit, providing a glimpse into the spiritual heart of Bangkok.
6. Go shopping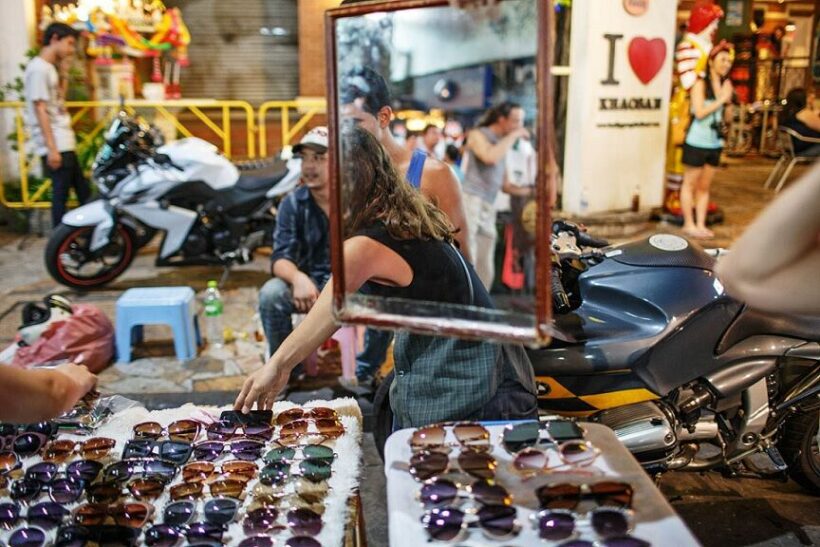 Khao San Road transforms into a bustling marketplace, a shopper's haven where the air buzzes with the promise of finds. This pedestrian paradise is lined with stalls offering an eclectic mix of goods: trendy clothing, music CDs, and even novelty ID cards. Amidst the vibrant chaos, you can stumble upon used bookshops brimming with travel tales and shops stocked with pre-loved travel gear.
Fancy a hair makeover? Sit back as skilled hands weave braids while your companion picks out a vibrant tie-dyed shirt. From the practical to the peculiar, shopping on Khao San Road is an adventure in itself, offering a slice of Bangkok that's as unique as the souvenirs you'll take home. Whether you're hunting for a keepsake or just soaking up the atmosphere, this street never fails to captivate.
7. Watch a Muay Thai fight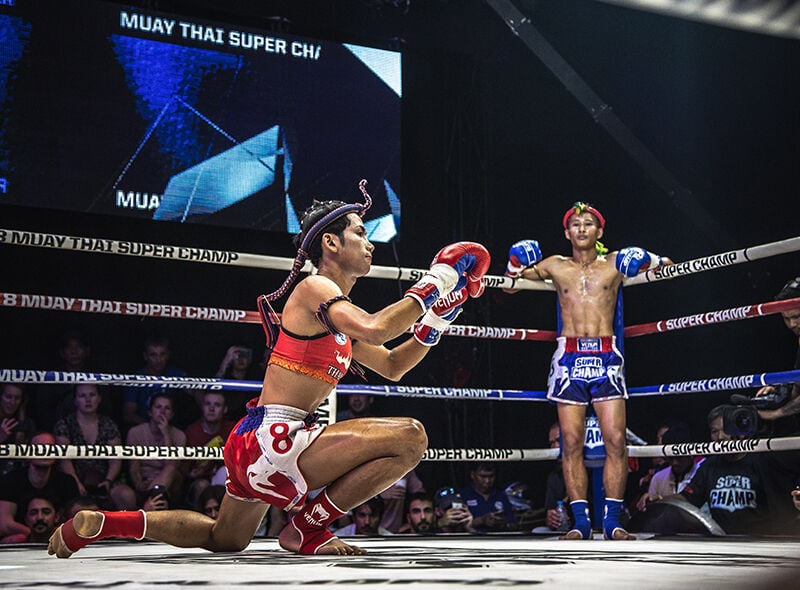 For a pulse-pounding experience in Bangkok, attending a live Muay Thai fight is a must. This martial art, known as the 'Art of Eight Limbs', is Thailand's cherished national sport. The atmosphere in a Muay Thai stadium is electric, with the crowd cheering on fighters who display incredible athleticism and skill. Each match is not only a test of physical prowess but also of strategy and honour.
Whether you're ringside or up in the stands, the energy is palpable. Fights are held regularly, offering visitors a chance to immerse themselves in a vital piece of Thai culture. Don't miss the opportunity to witness this exhilarating sport firsthand—it's an experience that will leave you on the edge of your seat.
8. Attend cooking classes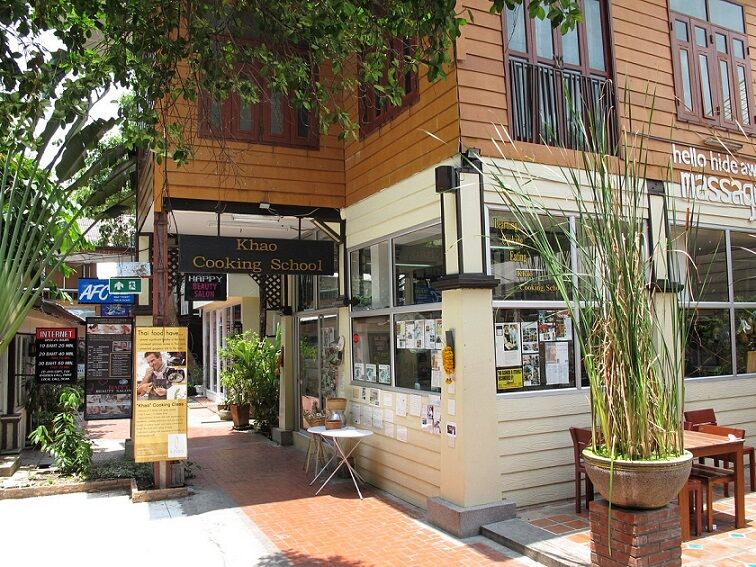 Ever dreamed of whipping up authentic Thai dishes in your own kitchen? On Khao San Road, you can turn that dream into reality. Enrol in a Thai cooking class and uncover the secrets behind the country's famed cuisine. Expert chefs guide you through the process, from selecting fresh ingredients at the local market to the final garnish.
You'll learn to balance the complex flavours that make Thai food so irresistible. Classes cater to all skill levels, ensuring a fun and informative experience. Plus, you'll leave with new skills and recipes to impress friends and family back home. So, tie on your apron and let the flavours of Thailand inspire you. It's more than just a cooking class; it's a taste of Thai culture you'll savour forever.
9. Get a tattoo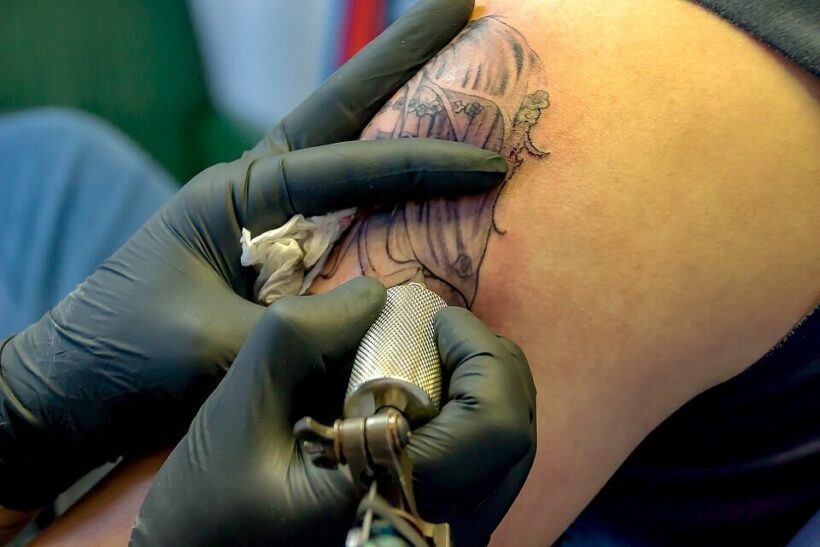 Khao San Road isn't just a hub for travellers; it's also a hotspot for those seeking to etch their memories onto their skin. The street is dotted with tattoo parlours, each boasting artists skilled in a variety of styles. Whether you're after a traditional Thai design or something more modern, these studios offer a safe and professional service.
A tattoo here is more than just body art; it's a permanent keepsake of your journey. With stringent hygiene standards and quality inks, you can trust that your Khao San tattoo will be a point of pride for years to come. So, if you're ready to take a piece of Thailand with you, look no further than the talented tattooists of Khao San Road.
10. Get a custom suit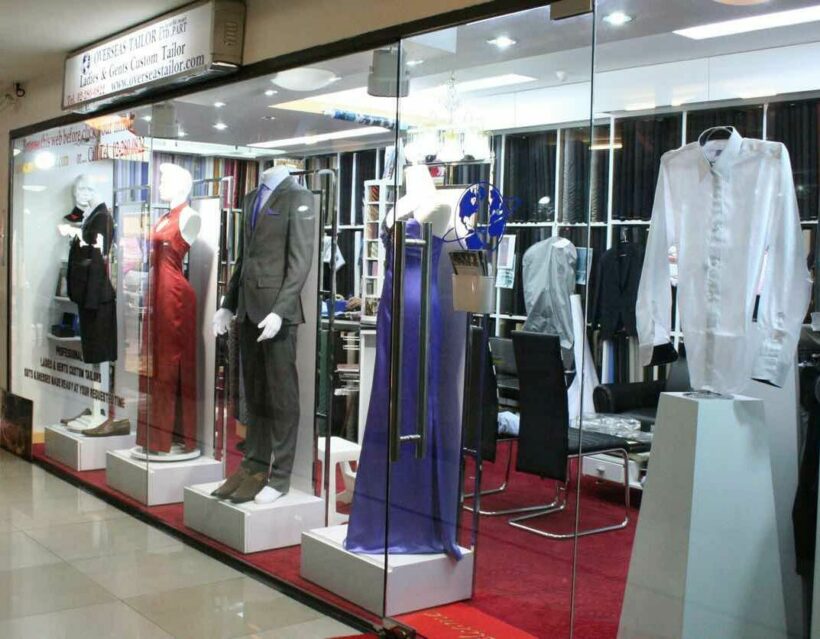 Khao San Road is not only a place for cultural immersion but also a destination for bespoke tailoring. The tailors here are famed for their craftsmanship, offering custom suits and dresses that are the epitome of style and fit. With a keen eye for detail and a swift turnaround, these artisans can craft a garment that's uniquely yours in no time.
Whether for business or a special occasion, a tailored suit from Khao San Road is a sartorial souvenir like no other. You'll leave Bangkok with a perfectly fitted reminder of your travels, stitched with the essence of Thai precision and care.
Khao San Road is a microcosm of Bangkok's larger-than-life personality, offering a blend of cultural experiences, entertainment, and culinary adventures. With these 10 activities, you're sure to have a rich and diverse experience on this iconic street.
Are you looking for things to do in Phuket? If it is for you can check our article Best things to do in Phuket for a memorable holiday
Best ofLifestyleThings To Do